Vendors Communications Engineering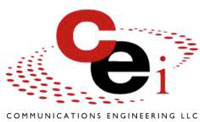 Current RFP Awards: Approved - National
Products Under Contract
Professional Consulting Services
Distributed Antenna Systems (DAS)
DAS & Small Cells Congress Notes New Orleans, June 2015
About Communications Engineering:
Communications Engineering LLC, is an independent telecommunications and technology consultancy, providing valued consulting advice since 1988. Clients range from small, one location companies to multinational corporations. CE LLC has provided consulting services to state and federal governments, hospitals and healthcare organizations, finance and insurance, legal firms and the retail industry. Jim O'Gorman, the firm's principal consultant, began his career in the Bell System and held management positions in marketing and outside plant engineering. He is an active member of the Society of Communications Technology Consultants (formerly the STC) and is a Past President. He holds a Mechanical Engineering degree from the University of Notre Dame and a Masters Degree in Business Administration from Fairleigh Dickenson University.
CE LLC has been working with Distributed Antenna Systems (DAS) since 2007 and has overseen both DAS and macro base station installations. Past and present clients represent the full range of higher education from state universities to community colleges. DAS consulting assignments have been completed for: United States Military Academy at West Point, United States Naval Academy at Annapolis, Washtenaw Community College, Ann Arbor MI, University of Delaware, Newark DE.